Founded in Portland, OR in February of 2009, B-Line specializes in sustainable delivery to the urban core. We partner with businesses large and small to take care of their downtown, and close-in delivery needs so that they don't have to deal with the challenges of conventional trucks and vans. This, in turn, creates a more sustainable, livable community for all.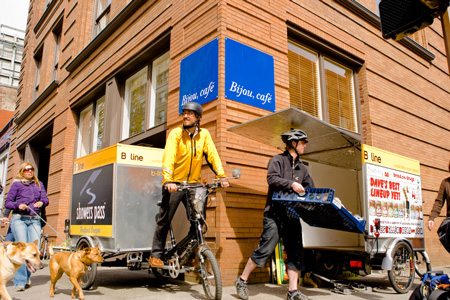 Delivery: Whether dropping pallets at our warehouse in close-in southeast Portland or having B-Line come to your facility for pick-up, we streamline and simplify urban delivery for businesses. With over 55 cubic feet and a 600-pound capacity, our unique electric-assist cargo trikes offer eco-friendly, efficient delivery to close-in and downtown Portland.
Recycling pickup: In addition to our delivery services, B-line can pick up hard-to-recycle items from your office, including styrofoam and hard plastics. To learn more about these services, please email [email protected].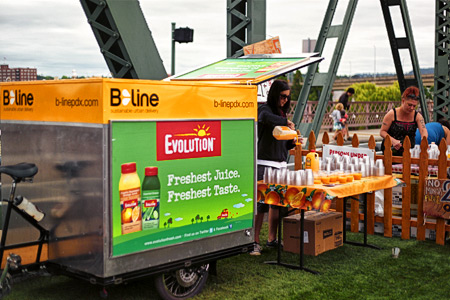 Advertising and promotion: B-Line offers unique advertising and promotional opportunities for companies looking to align their advertising efforts with their core values. Eye-catching, mobile advertising space is available on the sides of our cargo box panels, and our fleet of nimble trikes and friendly drivers are ready to go where the crowds are at a moment's notice to promote your products or events.
Click to see the B-Line street team in action at the Guayaki "Guayatholon" at Portland State
Talk to B-Line about delivery, advertising, and promotions: LINK