Post from Paul Willerton at Electric Bike Report.  From the post: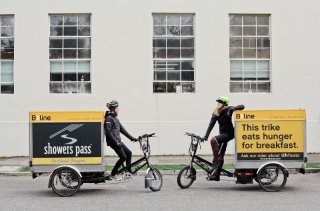 From the humble concept of supplying 'last mile' deliveries to businesses in a metro area via bicycle transport, Jones has proven his concept works. His business is not only profitable, but it adds value in ways that keep adding up.
First of all, Portland is a cooler city by having electric-assist bicycle delivery. Residents not only seem to take some pride in it, they are also shown what is possible with an electric-assist bicycle. Many may be compelled to get on bikes, themselves.
Want more? Read it here.