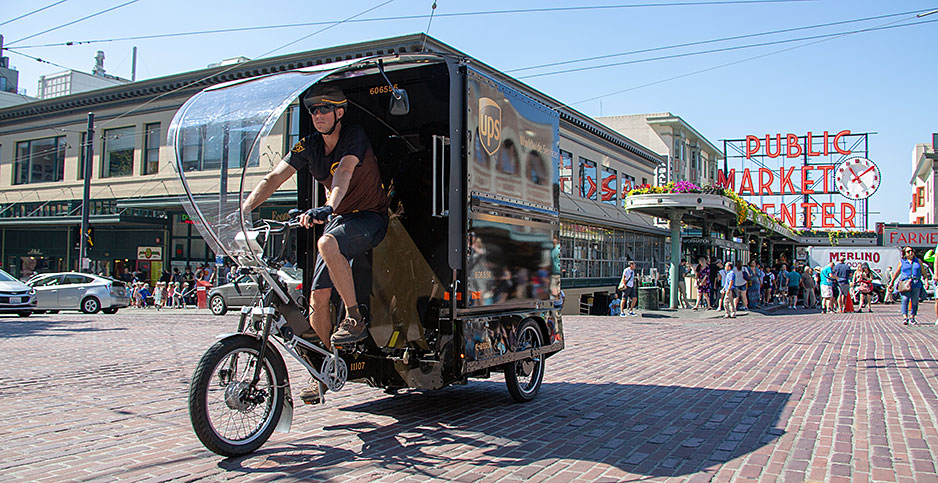 "The electric bike that could change delivery as we know it."
Every Tuesday, a guy riding a weird kind of tricycle coasts to a stop in the courtyard outside Kate's Ice Cream in Portland, Ore., to pick up a new shipment.
He puts 30 cases of Kate's goods — vegan ice cream with flavors like waffle cone and marionberry cobbler — into freezer bags and places them alongside other freight in a steel box mounted behind his seat. Loaded with as much as 600 pounds of cargo, he turns onto Northeast Sandy Boulevard.
Each pedal stroke is boosted by a silent electric motor hidden in the chassis. He takes the bike lane, despite commanding a 4-foot-wide commercial vehicle.
After a mile-and-a-half ride, the trike arrives at the warehouse of B-line Urban Delivery, a logistics company located in the heart of the city and just blocks from the Willamette River. He unpacks the cargo at a warehouse that's smaller and more central than the kind of megaplex where package deliveries usually go.
Every part of this scenario is different from how most last-mile deliveries are made today. It would be easy to dismiss B-line's service as just another Portland oddity. But similar projects are scaling up in European capitals like Paris and Berlin; just became legal in Chicago; and are being adopted in New York City, where Amazon.com Inc. has 200 such electric bikes making produce deliveries.
"Not having a big diesel truck pickup is always helpful," said Katelyn Williams, the ice cream proprietor.
That is the premise of the embryonic but fast-growing world of delivery e-cargo bikes, or e-trikes. It is a subset of the electric pedal-assist bicycles that are zooming in popularity during the pandemic. Advocates say small electric conveyances, roving short distances, can deliver goods more quickly in the dense parts of cities, while reducing the...