Welcome to the wonderful world of Portland summer! All the gray and rainy you could ever want. And more. As we all know, the true beginning of summer here is 4th of July, and with it will come a huge amount of outdoor activity, from bike racing to rock climbing, kayaking, and for the pros among us, free movie watching and pint lifting. I'm getting worn out just reading this list!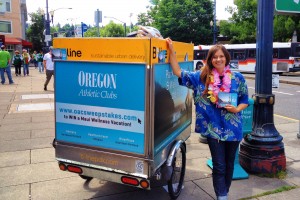 Though many of you, us included, would probably like to spend the whole sunny season outside, sometimes it's easier to get your workout on where you're nearest. And it helps if it's a local business, with, hmm, hot tubs, pools, an awesome spa, a rock wall, and why not dream big, a restaurant? Such places exist my friend, and they are called Oregon Athletic Clubs and have three locations in the Portland area.
When you hear people talk of the importance of supporting local businesses, it sometimes seems to be implied you should accept a lesser option just because of the local economy benefits. OAC would like to dispel this myth. 24 Hour what? No, people, there's no need to go the impersonal chain route, when you have a place that says things like this:
"Our clubs are based on relationships and we get to know our members personally. This allows us to meet the distinct needs and preferences of each member and be considered an integral part of each members life."
With an active community that extends onto Facebook and a blog full of food for thought, sometimes literally, this is a robust, enjoyable experience to be a part of.
Sometimes though, summer means travel. Well, you knew this was coming, OAC has you covered there too, as they'll be giving away three trips to Hawaii on June 28th, during Luaus they're hosting. Here again, this is no canned trip to Waikiki, you'll be staying in a Sea Ranch Cottage, a place that has the unique distinction of being a Conde Nast award winning resort and also offering earthy fun like locally practiced thrown net fishing classes. Throw in daily spa treatments and activities, three meals a day, and flying Alaska Airlines, and yeah, this ain't no generic holiday.
We wish you all an awesome summer, and look forward to seeing you while we're pedaling the city's goods around town! Say Hi, we'd be happy to tell you about our cargo trikes, and demystify how any human could carry up to 600 pounds by bike. Hint: Bionics are not involved.