Spring Greetings!
From eight sets of soggy rain gear to yours, Springtime greetings! I know we are not alone in eagerly anticipating the sunny days ahead.  But who's complaining–we've had a wonderful, if wet, winter season at B-Line, as we continue to grow our fleet and our team (welcome to our new rider, Cooper Williams!)
If it seems like you're always seeing one of our yellow jackets buzzing around town, you are–did you know B-Line is now delivering to over 200 accounts in downtown and close-in Portland? Be on the lookout for our "B-Line delivers" logo on products and storefronts and know you're a part of displacing over 10,000 truck/van-based deliveries and 50,000 lbs of CO2 emissions in our city.
How can B-Line deliver for you? With three stops or more in the downtown core, B-Line can save your business time and money on distribution. Try our cost calculator (developed by some savvy MBA students at PSU) and see how we can save you some green.
Along with those long-awaited sunny days just around the corner, so are summer festivals and events. If your company is looking for a smart, effective advertising and promotional tool, talk to us about our unique street-level marketing capabilities.
Cheers,
The B-team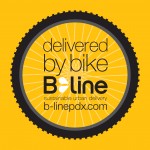 We partner with businesses large and small to take care of their downtown and close-in delivery needs so they don't have to deal with the challenges of conventional trucks and vans. This, in turn, creates a more sustainable, livable community for all.
Do you know someone who might be interested in this newsletter?
Contact Us
Visit us at b-linepdx.com
If you would like to discontinue emails from B-Line Sustainable Urban Delivery, please click here.