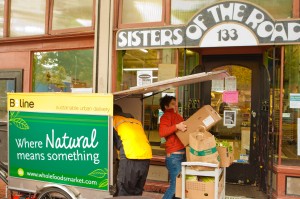 Since 1979, Sisters has operated in the Old Town/Chinatown neighborhood. At that time, the Cafe was anonymously christened when a circle containing three Xs – the hobo symbol for good food and hospitality – was chalked on the pavement outside the restaurant door. This symbol became Sisters' logo.
Sisters' customers, volunteers and staff have been creating community for more than three decades by building long term, stable and mutually supportive relationships. Creating a safe, hospitable space which offers delicious, nourishing food are our priorities in the Cafe.
In the Cafe, we practice active nonviolence. Nonviolence asks us to stop violence without using violence ourselves, confronting it using love and respect to promote the safety and well-being of all. Our belief is that creating a nonviolent environment starts with relationships, by calling each other by name, and by caring for one another.
60% of the meals we serve are earned through our Barter Program.
To participate in the barter work program, customers can spend fifteen minutes of their day mopping the floor, taking out the garbage, or sweeping the front stoop and earn $1.50 in credit at the Cafe, enough for a delicious, nutritious meal and a drink.  A customer can barter for several hours at the rate of $6.00/hour of meal credit.  A three hour shift results in $18.00 in meal credit – enough money to eat for a few weeks at the Cafe or to treat friends.  Barter workers can put "money on their books" to use later or to share a meal with a friend, or they can buy barter meal coupons to give away.
Other services
Our Cafe also offers:
a safe and clean children's play area and tables for families
clean, gender-neutral restrooms
a phone message board so community members can stay in touch with family and friends
information regarding referral services
and references for barter workers seeking to re-enter the workforce