Recently named Roaster of the Year in roast Magazine, Portland Roasting has provided pleasant coffees to grocers, hotels, restaurants and independent coffee shops since 1996.
It's not just another cup of coffee, it's coffee to feel good about. Grown with care for the land and surrounding communities at origin, we ensure living wages to coffee farms and are committed to life-enhancing projects all over the globe.
More than ten projects have been completed including tree planting to combat deforestation in Costa Rica, water well installations in Kenya and Tanzania and building a school in Papua New Guinea. By purchasing Portland Roasting Coffee, you join our mission to improve the world's coffee growing regions- it is coffee to feel good about."
Whether it's a commitment to a business partnership with a small, organic coffee farmer or a decision to purchase eco-friendly materials for our office, our company has never veered from its pledge to doing the right thing for the environment and the community – near and far.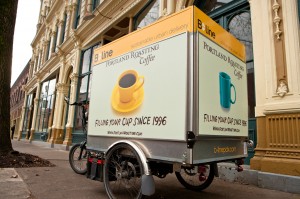 Partnering with B-Line is just one of the eco-efforts we maintain as part of this commitment. B-line delivers to over twenty of our accounts in the urban core.