Planting the seeds for a more inclusive economy
Reflections on the 2016 B Corp Champions Retreat 
Paul Hawkins suggests that successful businesses are tended to like gardens.
As entrepreneurs, owners, and operators the growth we should be focusing on is in the healthy soil and roots of our businesses so that year after year our endeavors can flower and flourish. This could be seen as contradictory to the mantra of "scale or die" which is so prevalent in today's growth oriented companies and the entrepreneur often needs help navigating the path forward. For B-line, I have found this guidance in the certified B Corp movement. The B Corp community, with the support of the non-profit B Lab, continues to provide a roadmap for how a company can truly be a force for good.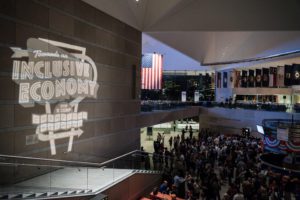 I was reminded of the uniting and inspiring voices of the B-Corp movement a few weeks ago when I attended the annual Champions Retreat in Philadelphia, PA, where over 500 representatives from over 300 B Corps converged from 19 different countries for three days of service, collaboration, and celebration. This year's theme was "Towards an inclusive Economy" and at every session – large or small – the participants grappled with this notion. We explored the nuances of the words diversity, equality, equity, and inclusion. Conversations were built around internal company practices as well as greater community outreach. Through reading, reflecting, and sharing the text Freedom from Fear by Aung San Suu Kyi, we explored individually and collectively the nature of Fear as corruption. Then, on the last day of the retreat, we were inspired by presenters who shared their path toward an inclusive economy and challenged the rest of us to do so as well.
At the retreat, I was pulled out of the daily events that so often overwhelm a business owner and was given the opportunity to consider what path(s) B-line will choose to grow a more inclusive company. At first, the immediate hurdles of capital, resources, and leadership bandwidth screamed at me from the front of my brain. But as the conversations continued, I began to realize the unique position B-line plays in our community. The myriad ways that we can continue to foster more inclusive roots throughout our organization and in the communities we serve have begun to sprout.
Historically, B-line's impact business model has focused on creating a more livable community via the reduction of truck trips into our urban center and neighborhoods. First through consolidation, and then through vehicle replacement with our trikes, B-line takes small but critical steps towards a less carbon-intensive method of moving freight throughout the city. With the move to the Redd on Salmon street, B-line now has an appropriately sized warehouse to serve as a central city hub that can expand our mission and our business simply by providing an accessible space. In the months and years to come, I believe that B-line can strive to leverage this access to grow a more inclusive economy. Here's how: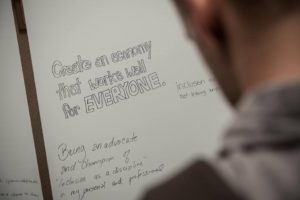 We can continue our efforts towards a livable wage and equity in compensation;
We can grow a more diverse workforce by providing "green-collar" jobs;
We can seek to grow programs such as B-shares to continue our efforts at supporting vulnerable communities;
We can provide access to a hub for warehousing and logistics for organizations tackling food insecurity through urban farming and agricultural education, such as Groundwork USA;
We can provide access to minority-owned, value-added, small food businesses that need space and logistics to grow their operations;
We can leverage our advertising partnerships to raise awareness of inclusive action within our communities and businesses;
We can strategize how mini-hubs can be deployed in underserved communities and provide access to hyper-local jobs that directly serve those communities;
And, in partnership with other B-Corps, we can leverage our position at the intersection of many types of business to increase the awareness of the need for an inclusive economy throughout our value and supply chains.
As Kevin Trapani emphatically demonstrated during the B Inspired Talks, this all makes good business sense, as "No business can succeed in a community that is failing." Please join me in planting the seeds and helping B-line grow a more inclusive economy.
Franklin Jones
CEO and Founder
B-Line Urban Delivery
Photos provided courtesy of B Lab photographers, Andrew Bilindabagabo, Philamedia, & Callie Rojewski