Pizzicato started the gourmet pizza trend in Portland back in 1989. Now with multiple locations, it's still
run by husband and wife founders, Marc and Tracy Frankel.
When the Frankels opened their first Pizzicato, a tiny 600 square foot take out, they had no idea their creative pizza recipes would find an audience in Portland. For them, it was a labor of love and the fulfillment of a dream. As word spread, lines formed and the business took off. In 1989 when Pepperoni and canned tomato sauce were the only choices, Pizzicato gave Portlanders something new, and better, that honored quality ingredients.
Over the past 20 years, much has changed at Pizzicato. They now have 17 pizzerias in the Portland Metro area and employ over 200 people. What hasn't changed is their commitment to the food, their staff, and the communities in which they do business.
That's why, when a long-time Pizzicato employee mentioned seeing B-line on the street, Tracy and Marc set up a meeting with B-line principals Franklin and Randy. Like-minded companies make good partners and Pizzicato and B-line have much in common.
Like the environment, for instance. Years before it was common practice, Pizzicato switched to recycled and recyclable packaging. Since then, they've added composting stations, changed to "green" cleaning agents and buy locally-grown produce whenever possible. Pizzicato and B-line also share a playful attitude and a belief that the message is just as important as the messenger. So after 20 years in business, Pizzicato launched its very first advertising campaign and chose B-line as the medium.
B-line side panels feature bold black words on a white background that engage passers-by with a clever turn of the phrase. The back panel shows a close up photo of Pizzicato pizza. So far, B-line "drivers" have watched a lot of heads turns as they pedal past pedestrians and motorists. Together, B-line and Pizzicato hope they can reduce gas-powered traffic on the street and drive more customer traffic into Pizzicato.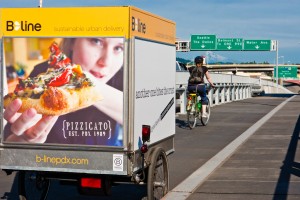 Find out more at pizzicatopizza.com