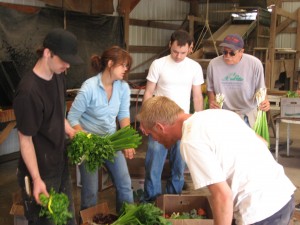 Organically Grown is the largest wholesaler of organic produce in the Pacific Northwest with Eugene and Portland, OR and Kent, WA locations. We are a proud supporter of regional organic farmers. We're not your typical produce supplier. Our passion for organic fruits and vegetables drives us to provide our customers with the freshest and most delicious, organic produce on the market.
We are committed to operating our business in ways that are increasingly sustainable, thus supporting environmental health and the well being of people involved in all aspects of our business and communities. Not only does Organically Grown support the sustainable efforts of local growers, but we work constantly to practice sustainability in our company as well.
What do we mean by sustainability? Doing business in a way that meets the needs of present generations without compromising the ability of future generations to meet their needs. Our goal is to be a model of sustainable business practices. We are getting closer to this goal everyday by continuing to run our business without compromising resources for future generations. Take a look around our website www.organicgrown.com to learn more about our company, the LADYBUG brand and why more food retailers and other resellers are choosing to buy their produce from Organically Grown.
Want to learn about what we're up to? Join us at our upcoming Organicology conference taking place in Portland, OR February 10th – 12th, 2011. Visit www.organicology.org for more information.