Owning a car these days is becoming an increasingly expensive proposition. Gas prices keep inching up. Finding parking for it can be time consuming and expensive. All told, the average American spends more on their car monthly then food!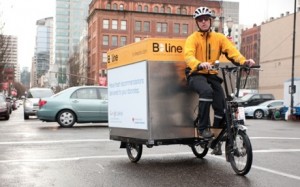 Thankfully, here in Portland and many other parts of the world, car sharing services are popping up in all corners of the city. What they essentially do is decouple the need for a car from the expenses of car ownership. And like B-line, they take cars off the road. How so? Well in our case it's clear: We replace trucks that would otherwise be out there making deliveries, adding to traffic, noise, and looking for parking. Our smaller, emissions free, more sidewalk friendly e-assist cargo trikes can go just about anywhere!
With car sharing services, a recent study said that each removes between 9 to 13 vehicles from the road. It's also worth noting that the survey found that the mileage of the car sharing vehicles versus the ones people choose to give up increases substantially. So, not only are there less vehicles on the road, they're more efficient and producing less emissions per vehicle!
That said, no one type of car sharing service can do it all. People have different needs at different times, and thankfully, a variety of services are available to meet those needs.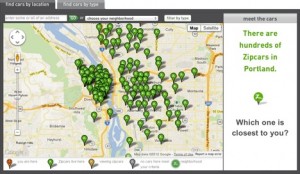 Zipcar is perhaps the most well known, having been around for the longest in the US. Zipcar has hundreds of cars available in Portland, everything from luxury vehicles to indulge yourself to pick up trucks for hauling that find you bought down at the Rebuilding Center. Zipcar's strength is the diversity of vehicles you can get, and their proximity to you. It's more  convenient than a rental car service, where you have to go to their location to pick up and return, leaving you to sort out your transportation to and from.
Car2Go has a very different, and complementary approach: It drastically simplifies things, offering only Smart cars that you can pick up and return in a different location, as long as it's within Car2Go's operating area. In this way it acts like a self taxi service. The rentals are per minute, so if you used it to get yourself to a night out across town, then a different one back home, you only pay for the time used, versus the entire time one car was out.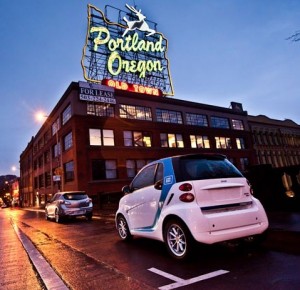 What Car2Go lacks in variety of vehicle choices it makes up for in flexibility and affordability, with cars naturally distributed throughout the city, fueled, cleaned and maintained by Car2Go.
A third emerging option is peer-to-peer car sharing, via services like Getaround. Essentially, you and I can rent our vehicles out to other people. Getaround is in several cities already, and interestingly, the Portland edition is part of a federally funded study to measure the benefits of peer-to-peer car sharing. Participants offering their vehicle can currently get another $300 in incentives money beyond their rental earnings, as part of this study.
Peer-to-peer car sharing is beneficial in several ways: It increases the number of available vehicles to rent and connects people to one another, enhancing community life. With the potentially financially lucrative returns from renting out your vehicle, services like Getaround will likely draw in a wider spectrum of people. Of financial benefit to renters is the fact that the hourly rate is set by the owner, and competition from neighboring rentals will likely drive down the amount.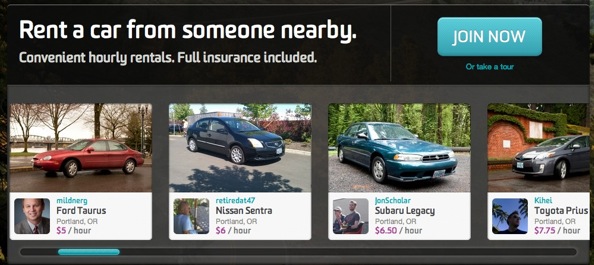 Collectively, these three car sharing options are making living car light or car free living a much greater possibility, and an enjoyable one at that! In empowering people with a viable, better option to the status quo when it comes to transportation, they, like B-Line, help create a more livable community.