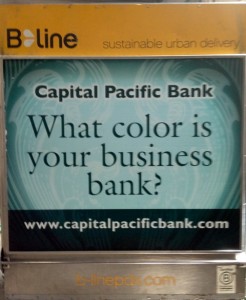 Welcome to the first of what will be an ongoing series here on the B-line blog, the GreenSmith Chronicles. B-line is committed to supporting the local economy in a sustainable, community benefitting way, and they've asked me to feature some of the best local sustainability minded businesses here in Portland. As a writer for Triple Pundit, Shareable, and my own GreenSmith Consulting blog who has written about and supported 100s  of businesses from across the globe, I'm honored and delighted to get a chance to focus the spotlight here in my own backyard.
First up is Capital Pacific Bank. When I say green bank, what comes to mind? For most banks, that largely means customers being offered paperless statements, perhaps some recycled paper use, and they call it a day. Capital Pacific Bank, a recent BEST  award winner for its sustainability practices, clearly understands that this can go much deeper, having a positive impact on not only the environment, but the employees of the bank and the community it serves.
What does this look like, specifically? 
It starts with Capital Pacific's focus on local businesses, especially non profits, among them many area independent and private schools. According to Capital Pacific, this means that they go far beyond just delivering the usual financial services, taking time to get to understand their unique challenges as non profits, then doing things like connecting them with resources and people that have nothing to do with the bank, all in the service of investing in and supporting the local community.
Further, they host educational events  for non profits called Getting It Done, featuring top caliber resources such as Penelope Burke, a donor based fundraising expert rarely seen at such an intimate scale, on the west coast. In doing this, they help these organizations be stronger, smarter, and therefore better able to meet the needs of the communities they serve, a ripple effect benefitting us all.
Capital Pacific's green initiatives also mean direct actions such as reducing 93% of their computer energy use via transitioning to Thin Client style computing and a commitment fully transitioning all paper files to an electronic system. They extended their efforts to their neighbors when they worked with the property manager of the Fox Tower high rise to establish a building wide composting service program. Now that's commendable!
On the human side of the sustainability equation, Capital Pacific connects with local organizations to develop internship programs for at risk youth, and their staff donates more than 350 hours to local non profits in 2011. They recently volunteered at the Rebuilding Center, pulling nails out of reclaimed wood, enabling it to be used in new buildings. 2012 sees them deepening their volunteering, making sure there are more opportunities for individuals to participate in a way that fits the demands of their jobs.
Understanding that what happens outside their bank is as important as in, Capital Pacific Bank covers 100% of employee mass transit costs, and beyond the now common 100% carbon offsetting, it is helping rivers thrive in the Pacific Northwest via Water Restoration Certificates from Bonneville Environmental Foundation.
Capital Pacific Bank clearly gets that in these days where people are seeking a more equitable, local relation with their bank, and don't hesitate to move their money, they should play an integral role in benefitting the community they serve, and the environment we live in.