Franklin Jones Owner/CEO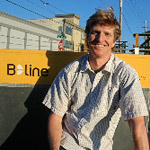 The seeds for B-line were planted into Franklin's life long before he knew it. Who knows where it all really began, perhaps somewhere in that lofty call to serve the Common Good instilled upon all Bowdoin College grads. A formal genealogy of B-Line began with Franklin's first "real" job out of school as a bicycle and pedestrian planner in Bend, OR for David Evans and Associates. The concept silently percolated over a thirteen-month, 10K bicycle trip from Japan to Ireland and then had some time to rest as Franklin entered a rewarding career in education as a sixth grade teacher in the SF Bay Area. In 2008, his entrepreneurial and adventurous spirit took over and Franklin departed sunny San Francisco for the greener pastures of Portland, OR. Never short on ideas to enhance the community around him, Franklin combined his interest in seeing how business can be a catalyst for social and environmental change with his love of cycling and founded B-Line. Franklin loves how when the right tool for the job is used, the right team steps up, and a day-to-day commitment towards a sustainable future is embedded in the culture of a company all stakeholders benefit–everybody wins. You can catch him on the trikes working to enhance the fabric of our cities one pedal stroke at a time.
Scott Robinson CFO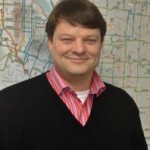 Growing up in many places East of Portland, Scott spent much of his youth working in his father's garden. He learned at a young age, that if we take care of the earth, it will provide for us. Despite having a degree in Ethics and Political Philosophy, Scott spent five years working on Wall Street helping small to medium sized companies develop and implement their strategic plans. Moving to the buy side in 1999, he joined WorldPoint Logistics in Seattle, where he conducted due diligence on acquisition opportunities. Seeking warmer weather, Scott moved to Portland in 2002 and where he worked as vice president of corporate finance for Strategic Group, a local investment bank. In 2005, Scott launched his own company to provide strategic and financial consulting services to small and medium sized business. Scott has served as chief financial officer and as member of the board to several businesses ranging in size from pre-revenue to $50 million in sales. Now, he is particularly excited to be working with B-Line where he can align his expertise with his core beliefs in sustainability and make a triple bottom line impact.
Ryan Owens Chief Operating Officer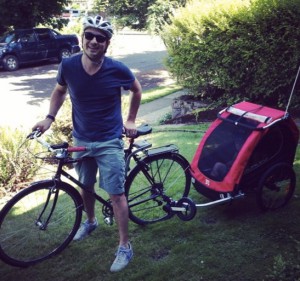 Ryan is a New England native whose first job at age 12 was selling organic, vegan wraps and noodle salads out of a converted hot dog cart in Exeter, NH. Ryan first arrived in Portland in 2000, and though he's left the city three times since then – with stints in Santa Cruz, San Francisco, and Portland, Maine – he's always been drawn back by Portland's beauty, progressive culture, and vibrant food industry. With a BA from Lewis & Clark and an MBA from Portland State, Ryan has been steeped in the Pacific Northwest's research and focus in the fields of sustainability and corporate social responsibility. Before joining B-Line, Ryan spent a few years at a global management and technology consulting firm, focusing on project management, organizational strategy, and operations. At B-Line, Ryan oversees business operations including management of our 15,000 sqft warehouse at The Redd. He is proud to be a part of a business that supports and lives in line with a motto that he has held dearly since childhood: non sibi, or "not for oneself." It is with this in mind that Ryan seeks to build a platform for small businesses to grow and a community in which they can prosper.
Bill Murdock Fleet Mechanic/Rider Ambassador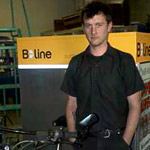 An Oregon native, Bill has been a cyclist his whole life, been in the bicycle industry since 1997, and a professional mechanic for over ten years. He is also a dedicated motorcyclist, air-cooled VW mechanic, and home-shop machinist. Bill says, "B-Line allows me to apply my experience with both motorcycles and bicycles while contributing to a responsible urban lifestyle." Watch for Bill's guest blogs on how things really work at B-Line.
Aaron Dance Keg Trike Ambassador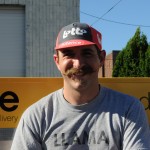 Aaron was born and raised in Louisville Kentucky. He enjoys a good adventure of any kind, be it a mountain hike, three week cycling tour, sail boat race or just a game of ball in the park. He has been riding bikes for fun all his life and working in the Cycling and music industry for the past five years. Feel free to talk with him, he knows the answer to almost any question, especially related to Bikes, Bourbon or Bands; and if not a good conversation will start anyway.
Bill Hewitt Rider Ambassador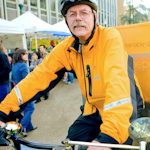 As a long-time Portlander, Bill has held many jobs over time and says pedaling for B-Line is one of his best jobs yet. Bill has spent most of his time living "outside the box" and feels that pedaling for B-Line has knocked down a wall of the box and life is better. Bill is resident "handyman" at B-Line, building all sorts of contraptions to make our gears run smoothly, and also loves to hop on the front of a pedicab and give our friends and family tours of Bridgetown.
Lance Paul Rider Ambassador/Operations Lead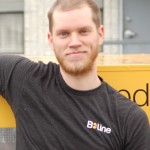 Lance moved to Portland from Traverse City, Michigan in September of 2010. He is currently studies Art History at Portland State University. Lance has held a bunch of different jobs, from working in kitchens, as a cashier, as a barista, to running his own concert production company and helping run one of the only independent record shops in his hometown. He loves his family, has shaken John Poppers hand, seen over 240 movies, and eats a lot of pizza and Ethiopian food. Lance crashed his first car into a whole bunch of trees and then he decided not to take care of his second car and the engine broke. Ever since then he has been riding bikes and loving every second of it. Lance is really happy to be working for B-Line, his favorite part about the job is being able to ride around outside all day, even when it is raining.
Sam Appelbaum  Rider Ambassador/Operations Lead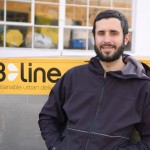 Born and raised in the Bay Area, California, Sam moved to the Pacific Northwest in 2007 to pursue a degree from the University of Oregon. Throughout his environmental studies degree, he worked for the schools Outdoor Program, which piqued his interest in bicycles as an important cultural and utilitarian tool for both fostering community and making positive environmental decisions. When not pedaling for B-Line, Sam also works for Cycle Portland Bicycle Tours as a mechanic and tour guide. Sam is an avid human-powered adventurer, and in 2010 he co-created Pedal Your Turns: Bicycle-supported backcountry snow-sliding expeditions. It's a way to pursue a passion for snowsports while mitigating much of the pollution associated with accessing the mountains.Check out some photos and trips reports at www.pedalyourturns.com.
Donna Avallone Rider Ambassador/ Lead Promotions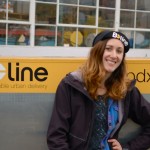 Ms. Donna is something of a sun-child from a small town in southern Arizona.  She learned that life was better seen from the seat of a bicycle when she and her family moved to Heidelberg, Germany for 5 years.  It was there that she discovered the meaning of freedom, pedaling the never-ending paths leading to quaint German towns and up mountains that always had a beer-garden waiting on top.  Moving back to Arizona for college, she realized what is wrong with American cities: sprawl, auto-dependence, an economy dominated by chain restaurants and big-box retail, and a totally insane industrialized food supply-chain.  She majored in Sustainable Urban Dynamics at Arizona State's excellent School of Sustainability to learn how to make cities safe, pleasant places to be.  Donna could not be more ecstatic to be a part of the coolest sustainable transportation company ever established, in the most European-like US city she has ever been to.  With more companies like this one, and cities figuring out that human happiness is very much linked to a safe and healthy environment, Donna is soo so hopeful for the future.