Franklin Jones Owner/CEO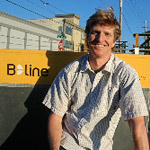 The seeds for B-line were planted into Franklin's life long before he knew it. Who knows where it all really began, perhaps somewhere in that lofty call to serve the Common Good instilled upon all Bowdoin College grads. A formal genealogy of B-Line began with Franklin's first "real" job out of school as a bicycle and pedestrian planner in Bend, OR for David Evans and Associates. The concept silently percolated over a thirteen-month, 10K bicycle trip from Japan to Ireland and then had some time to rest as Franklin entered a rewarding career in education as a sixth grade teacher in the SF Bay Area. In 2008, his entrepreneurial and adventurous spirit took over and Franklin departed sunny San Francisco for the greener pastures of Portland, OR. Never short on ideas to enhance the community around him, Franklin combined his interest in seeing how business can be a catalyst for social and environmental change with his love of cycling and founded B-Line. Franklin loves how when the right tool for the job is used, the right team steps up, and a day-to-day commitment towards a sustainable future is embedded in the culture of a company all stakeholders benefit–everybody wins. You can catch him on the trikes working to enhance the fabric of our cities one pedal stroke at a time.
Scott Robinson CFO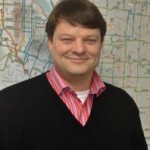 Growing up in many places East of Portland, Scott spent much of his youth working in his father's garden. He learned at a young age, that if we take care of the earth, it will provide for us. Despite having a degree in Ethics and Political Philosophy, Scott spent five years working on Wall Street helping small to medium sized companies develop and implement their strategic plans. Moving to the buy side in 1999, he joined WorldPoint Logistics in Seattle, where he conducted due diligence on acquisition opportunities. Seeking warmer weather, Scott moved to Portland in 2002 and where he worked as vice president of corporate finance for Strategic Group, a local investment bank. In 2005, Scott launched his own company to provide strategic and financial consulting services to small and medium sized business. Scott has served as chief financial officer and as member of the board to several businesses ranging in size from pre-revenue to $50 million in sales. Now, he is particularly excited to be working with B-Line where he can align his expertise with his core beliefs in sustainability and make a triple bottom line impact.
Eric Loebel Sales and Business Development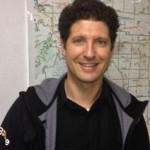 Eric's career defining moment came on the elementary school playground where he sold bubble gum in exchange for kid's milk money.  When the principal shut down the operation, Eric took away a meaningful lesson: their are good ways and not so good ways to make money.  Ever since Eric has dedicated his entrepreneurial spirit to project that support the greater good.  Eric spent the past ten years in sales and business development with Celilo Group Media publishers of Chinook Book and Sustainable Industries Journal.  He is pleased to be able to bring his experience and local relationships to support B-line's aspirations to serve people, protect the planet and make a profit.  Eric is a dedicated bike commuter and has a new year's resolution to return to mountain biking and to experience bike tours in the wine country with his beautiful wife, Ruby.
 Bill Murdock Fleet Mechanic/Rider Ambassador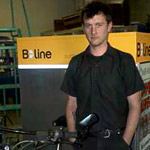 An Oregon native, Bill has been a cyclist his whole life, been in the bicycle industry since 1997, and a professional mechanic for over ten years. He is also a dedicated motorcyclist, air-cooled VW mechanic, and home-shop machinist. Bill says, "B-Line allows me to apply my experience with both motorcycles and bicycles while contributing to a responsible urban lifestyle." Watch for Bill's guest blogs on how things really work at B-Line.
Aaron Dance Operations Manager/Rider Ambassador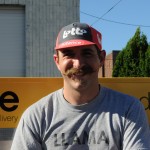 Aaron was born and raised in Louisville Kentucky. He enjoys a good adventure of any kind, be it a mountain hike, three week cycling tour, sail boat race or just a game of ball in the park. He has been riding bikes for fun all his life and working in the Cycling and music industry for the past five years. Feel free to talk with him, he knows the answer to almost any question, especially related to Bikes, Bourbon or Bands; and if not a good conversation will start anyway. He has recently moved to Portland after several years of visits and has found a home at B-line, not only pedaling, but running warehouse operations and logistics.
 Bill Hewitt Rider Ambassador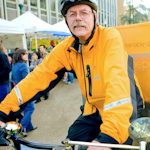 As a long-time Portlander, Bill has held many jobs over time and says pedaling for B-Line is one of his best jobs yet. Bill has spent most of his time living "outside the box" and feels that pedaling for B-Line has knocked down a wall of the box and life is better. Bill is resident "handyman" at B-Line, building all sorts of contraptions to make our gears run smoothly, and also loves to hop on the front of a pedicab and give our friends and family tours of Bridgetown.
Amy White Rider Ambassador/B-shares Co-ordinator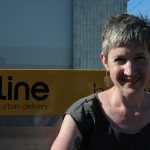 Amy moved to Portland in September from the central coast of California, where she raised a daughter and many businesses including a pedicab business. She loves that B-line is her "real job" and says it may well be the most fun to date. In her free time, she enjoys urban farming (some might call it gardening), exploring nature and art of almost any medium. Follow Amy and the smell of fresh-baked bread as she delivers Grand Central Bakery bread fresh from the oven to restaurants near you!

Amanda Schutze Rider Ambassador/Promotions/Social Media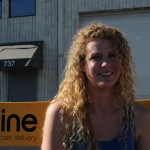 Originally from "America's High Five" (aka Michigan) I grew up wandering the beautiful beaches of the Great Lakes, climbing sand dunes, and hiking though the forests and farmlands my home state has to offer. My interests in community involvement, the environment, activism, and fine arts have drawn me to many places across the country. After completing my BA in fine art at Grand Valley State University I served as an AmeriCorp intern at The Clay Studio of Missoula in Montana where I came to appreciate the value of biking as a sustainable practice, reliable transportation and fun activity. Here in Portland I see B-Line as an amazing opportunity to grow with an innovative business that incorporates many of my interests, while I get to explore the city and ride a tricycle!
 Kevin Nichols Rider Ambassador/ Web Editor/ Safety Chair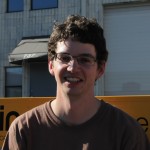 Kevin grew up in and around the Dallas/Ft. Worth area in Texas but has called Portland home for the past four or so years. He studied photojournalism at University of North Texas where he worked on the school newspaper, the NT Daily. Kevin enjoys taking photos, playing music and getting out for a round of disc golf. Never would he have guessed that he'd be riding as part of his career, but he is happy to be a part of a company that puts the environment and community first and looks forward to helping B-Line continue to grow. Kevin can be found most days delivering fresh Grand Central Bakery bread all over downtown.
Lance Paul Rider Ambassador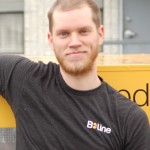 Lance moved to Portland from Traverse City, Michigan in September of 2010. He is currently studies Art History at Portland State University. Lance has held a bunch of different jobs, from working in kitchens, as a cashier, as a barista, to running his own concert production company and helping run one of the only independent record shops in his hometown. He loves his family, has shaken John Poppers hand, seen over 240 movies, and eats a lot of pizza and Ethiopian food. Lance crashed his first car into a whole bunch of trees and then he decided not to take care of his second car and the engine broke. Ever since then he has been riding bikes and loving every second of it. Lance is really happy to be working for B-Line, his favorite part about the job is being able to ride around outside all day, even when it is raining.
Charlotte Orvin Rider Ambassador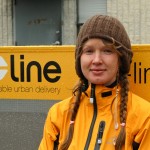 Miss Charlotte Apples grew up in South Miami and spent a lot of her time in the Florida Keys kayaking, canoeing, fishing, free-diving, chasing sharks, kissing reef fish and trying to grow a pair of gills.  When not enoying Florida's tropical paradise, some of her many work trades included office admin, construction, commercial fishing, working on a crabbing boat and pedi-cabbing large events along the east coast.  After exploring a deep desire to relocate to the west coast but indecisive on a destination, she left it up to the universe with a few games of rock, paper, scissors.  Rolled into Portland two weeks later and found her tribe.  During this universal process she contributed an amazing little person to the world and spends all of her off-time raising a daughter…WITHOUT A VEHICLE!  In January of 2013 she joined the B-Line family with ambitious goals to minimize traffic and conjestion in the urban sprawl of our beloved city while showering Portland with silly smiles.
Andy Cobb Rider Ambassador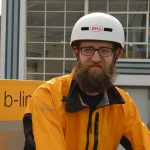 Andy has been to 46 states in the U.S., and is very proud to call Portland his home base.  After growing up in Tigard, he spent many months with a number organizations, including Drum Corps International and The Boy Scouts of America, touring this vast and beautiful country.  Now, if he isn't camping in southern Oregon or playing in the water at the coast, you can usually find him manning the flippers of one of the city's many pinball machines (he totally recommends C-Bar's collection of both new and classic era games that are open to all ages!).  Seemingly born with rain gear as skin, Andy enjoys making a positive influence on his community, rain or shine!
Chris Martini Mechanic/Rider Ambassador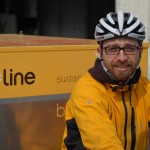 CLASSIFIED