B-Line is hiring!
We are currently looking for a Part-time Maintenance Mechanic, as well as Riders to join our team.
Email a resume and cover letter expressing your interest to [email protected].
About the company: B-Line has been helping to create a more livable community in Portland, Oregon since 2009. Located in the newly created food hub project called The Redd on Salmon Street, B-Line manages an urban consolidation warehouse and full service logistics company focused on supporting the regional food economy. B-Line serves a diverse set of customers ranging from small to medium scale farmers, ranchers, and fishermen utilizing cold storage to food entrepreneurs working in our shared office space. With a focus on sustainable solutions for last mile logistics, we utilize a fleet of large freight tricycles to serve our delivery partners. We work with some of the best bakeries and coffee roasters in town, a leading regional produce company, and a national office supply company.
Our distinctive trikes can be seen crisscrossing Portland, advertising our clients' goods and services while completing deliveries. You will even see us out on the street and at popular events sharing and promoting products on behalf of our partners. We fly the B-Corp banner proudly, are recognized for our grassroots-style innovation, and are well-situated for regional and national expansion. Sound like a compelling story? If so, you might be the right fit to join our group of fun-loving people who believe in being a part of a solution.
---
Job Title: Maintenance Mechanic (part time)
Job Description: 
B-line has been on the ground creating a more livable community in Portland,
Oregon for the past seven years. We are a band of fun-loving individuals who believe in a sustainable solution for moving and promoting goods throughout our cities. From our warehouse in central Portland, B-line serves a diverse set of customers ranging from farmers, ranchers, and fishermen utilizing cold storage, to delivery partners in office supplies, dry goods, perishable goods, produce, and baked goods, to local and national companies advertising on our large freight trikes.
We are seeking a skilled Maintenance Mechanic to service our fleet of electric motor-assisted freight tricycles.
Duties:
Perform routine maintenance procedures
Serve as support mechanic on weekends
Monitor and update shop-related logs
Schedule/Hours:
Saturday-Monday to start, up to 35 hours/week by Fall 2017
8am-4pm
Potential to work in the capacity of a delivery rider
Qualifications:
Minimum 1 year professional shop experience required
Familiarity with basic tool use and workshop practices required
Familiarity with electric & hydraulic systems required
Experience with bicycles required, additional experience with motorcycles or other motor vehicles preferred.
Excellent attention to detail and a conscientious work ethic is highly desired. Position is best suited for those with experience working with a wide range of systems, tools, and disciplines. Typical activities are elementary maintenance tasks that are repetitive and routine by nature. Applicants should be willing and comfortable with this type of work and be able to perform with consistency and dependability. Potential for additional diagnostic, repair, and fabrication tasks depending on experience and performance.
Those with excellent time management who can work well with a wide range of people will thrive.
To apply please send a cover letter and resume to: [email protected] with "B-line Maintenance Mechanic" in the subject line. Phone calls politely declined.
---
Job Title: Rider and Brand Ambassador
Job Description *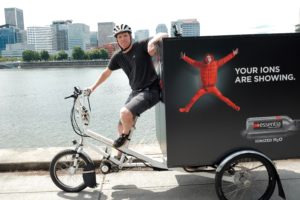 B-Line Sustainable Urban Delivery is a delivery and promotions company focused on the urban core of Portland. We work with regional and national brands to deliver authentic experiences with their products, via advertising, promotions, and logistics services. You may have seen us zooming around on our yellow cargo tricycles making deliveries or representing awesome brands such as Guayaki Brand Yerba Mate and CLIF Bar at local events.
RIDER
The role of a B-Line Rider is to be the primary public face of B-Line while executing our delivery and advertising promises to our clients. B-Line Riders are responsible for all aspects of client delivery including, but not limited to: packing, transporting product, delivering product, obtaining account signatures and processing delivery paperwork, recording delivery data, and assisting with the daily upkeep of the cargo trikes. Riders are expected to follow the standard operating procedures while promoting our mission and values in the public. Work is based on a delivery schedule set weekly, with regular day shifts available (approx. 7:30-3:30 daily), weekday and weekend shifts available.
Qualifications:
Service industry, delivery and/or route experience preferred.
Strong customer-facing experience.
Ability to ride and navigate the city by bike.
Ability to lift, carry, transport product (upwards 50 lbs) into trikes and into delivery locations such as restaurants, offices, etc.
Clean driving record.
Flexibility and openness to an entrepreneurial environment are necessary for success.
Commitment to B-Line's mission and impact goals.
BRAND AMBASSADOR: 
Brand Ambassadors engage the public while sharing products and information about our clients during street fairs, festivals, and sunny days. Ambassadors must have excellent communication skills and be energetic, cheerful, and professional as you will be representing our company as well as our clients.
Work is event-based; events are generally Thursday and Friday evenings, and Saturdays and Sundays during the day.
Ideal candidates will have flexible schedules and availability during those times.
Experience in sales, customer service, retail or other fast-paced customer-facing environments are a plus.
How to Apply *
Do any of these descriptions sound like a great fit? Please send your resume, a statement about yourself and why you'd make a great member of the team to [email protected]. Please include JOB TITLE and YOUR NAME in the subject line.